715 Dorseyville Road, Pgh, PA 15238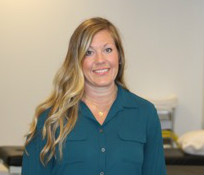 Physical Therapy Now Fox Chapel  is dedicated to enhancing and maintaining the lifestyle of residents living in and around the Fox Chapel, O'Hara Township, Allison Park, Hampton Township, and Indiana Township, who are suffering from pain and movement disorders.  At Physical Therapy Now Fox Chapel we enhance your life by developing specific individual strategies for you that will heal your body naturally in the least amount of time.
Our goal for you is always to achieve this without the need for medication, injections and surgery. We successfully handle the most complex orthopedic and sports medicine problems while telling you the truth about your condition. Our plan is designed for long term health to keep you pain-free and mobile throughout your life without needing to return for our services regarding the same condition.
Common conditions treated by Physical Therapy Now Fox Chapel are: Complex low back and neck pain, shoulder problems, elbow, wrist and hand problems, sacroiliac, hip, knee, ankle, and foot problems, urinary and bowel incontinence, pelvic pain and dysfunction.
All of our therapists evaluate and treat all movement disorders associated with walking and balance, pre and post surgical conditions and return to fitness conditions. In addition to our multi-specialty orthopedic practice Physical Therapy Now provides highly specialized personal training services for those with pelvic pain and incontinence at this location.
At Physical Therapy Now Fox Chapel you do not need a referral from a physician to schedule an appointment and most insurances are accepted. Private pay and payment plans are available so that anyone can achieve health, wellness, and fitness without the burden of finances restricting a person's health goals. Please call our office at (412) 794-8352 for any financial planning questions.
If you would like to speak to a physical therapist for a free 15 minute phone conversation about your condition please click here.
To call and schedule a direct appointment click here.
Dr. Kira Steele PT, DPT at Physical Therapy Now Fox Chapel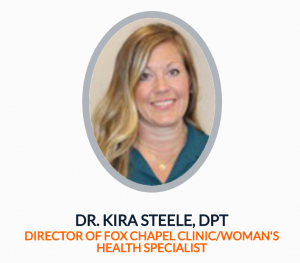 Dr. Steele graduated from Chatham University in 2013 with a Doctor of Physical Therapy degree.
Since then, she has been working in an outpatient environment, specializing in all orthopedic spinal and extremity conditions.
In addition Dr. Steele specializes in treating all types of female and male pelvic floor dysfunction, urinary and bowel incontinence, pelvic pain, frequency and urgency issues, post-prostatectomy, prenatal and post-partum musculoskeletal pain,  low back pain, sacroiliac disorders, pelvic floor therapy, lymphedema and peripheral vascular disorders.
Dr. Steele also has been trained to treat and manage lymphedema and wounds and to provide follow-up care to patients throughout their life. Furthermore, she has been an integral part in reducing swelling for post-op and post-traumatic injury patients so that they can have better outcomes and more quickly regain range of motion and return to function.
Additionally, Dr. Steele is experienced in the management of athletes at any competitive level and incorporates exercise and manual techniques in the treatment of the complex female athlete.
If you have a question about you specific condition Dr. Steele can be contacted directly at (412) 963- 7383 or by email at kirasteele.ptn@gmail.com
Physical Therapy Now partners with Sky Sports Medicine and Epic Medical to provide you with a complete healthcare convenience at ONE LOCATION!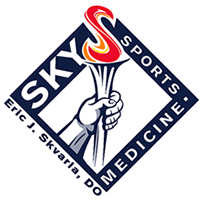 No matter what your goals are, Sky Sports Medicine and Epic Medical will provide you health every step of the way.
Family Medicine and Sports Medicine- that is unique to your family. Dr. Skvarla and his staff provide a complete, comfortable, and comprehensive family experience specific to you.
Concierge Medicine – Dr. Skvarla and his staff provide concierge medicine services for your every need and at any time 24/7.

Instant access to Medical Care– Don't wait for days to see the doctor.
Medical care with comprehensive follow up – Know your physician- FOR YEARS not minutes.