We welcome the opportunity to learn and grow with us:)!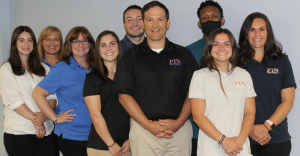 ABOUT THE CAREER INVESTMENT
We are excited for an Orthopedic and Sports Medicine Physical Therapist partner who would like equity ownership in growing a clinic. No business experience needed as our proven systems will show you success!
DO YOU WANT A BETTER FUTURE FOR YOURSELF?
Are you a smart and driven physical therapist with a can-do attitude who has dreamed of owning their own clinic but doesn't know where to start?
Do you want to re-focus your career to own an already successful clinic with proven results for future success?
Are you looking for life-long FULL business and clinical support for the long haul?
Are you tired of a corporate environment with no chance for career advancement?
Do you have at least 2 years of physical therapist experience and are looking for something bigger so that you can ACTUALLY have a future?
IF THIS SOUNDS LIKE A FIT THEN KEEP READING.
If you've got a passion for helping patients get their lives back on track and achieve things they never thought possible, you might just be the person who we're looking for. We believe in providing patient care as our #1 priority and guess what?…this does not have to happen via a PT Mill method!
We are laser-focused on assisting you to become a partner in our growing operation if you are the right fit. You bring the energy and that is all we need.
You'll be part of a company that is driven to help our patients achieve their "long term" goals and not just the initial pain phase. Whether it is getting a patient back to sport or simply getting out of bed and leading the best life that a person can. As a partner we are there to make it happen together well into the future.
If you have an existing clinic then we also need to hear from you!
CANDIDATES FOR THIS OPPORTUNITY MUST HAVE THESE QUALITIES:
You must be confident and assertive but show humility.
You have high attention to detail and communicate with clarity.
You are passionate, and outgoing and will bring heaps of fun to the workplace.
You will take extreme ownership of your actions.
You desire growth and thrive on personal and professional development.
You have a positive attitude. Any issues will always be seen as obstacles and not roadblocks.
You persevere until you achieve your goals.
You will be extremely accountable for your actions and outcomes and be willing to be closely mentored.
You bring positivity to your role and affirm your team members.
You will be required to work hard and immerse yourself in our vision – which is to provide unparalleled service and the best outcomes for our patients.
You must have a Physical Therapy License in the State of Pennsylvania and a Pennsylvania Direct Access License.
ROLES AND RESPONSIBILITIES:
Follow our proven clinical  and business processes to ensure your patients reach their optimal goals within expected timelines.
Bring passion and fun to the workplace. This needs to complement a high level of professionalism with both colleagues and clients. Let us know if there is something you aren't sure of or need help with. We are your cheerleaders, not your judge.
Display a laser-focused level of accountability. Whichever task you have been allocated, make sure it is delivered on time and as requested as this will build your personal reputation.
Take ownership of all of your actions to treat everyone you meet with dignity and respect.
This role is for candidates who are focused on investing in their future.