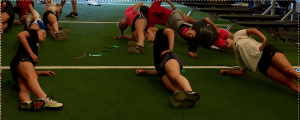 Fitness classes are a great way to motivate and inspire a person to achieve their physical best. There is no better time to be in a fitness class then in the summer of 2018.
Gone are the days of traditional aerobics classes  to more advanced and specific classes like Pilates, yoga, boot camp and Cross-fit. These classes give people a wide variety of choices to achieve their fitness goals.
But too often people enter fitness classes or buy fitness videos and shortly after become injured without any knowledge of what caused the injury. Often people will accumulate aches and pains and will try to "work through the injury" only to find out that they become more injured.
This is unfortunate because then people will give up on their goals for losing weight, or becoming stronger etc.. Here are 5  tips to assist you in avoiding injury during fitness classes.
1#) Hydration – Most people are not properly  hydrated before during and after they participate in a fitness class. According to the American Academy of Sports Medicine there are many steps before, during, and after exercise that should be performed in order to stay properly hydrated. <Click Here to learn more about proper hydration standards>.
2#) Perform a proper warm up – Most people do not warm up at all  or do not warm up properly.  Here are our guidelines to a proper warm up:
Warming up should be performed at least 15 minutes before your fitness class and should involve a total body warm up where you are breaking a mild sweat and raising your heart rate slowly for at least 10 minutes.
Warm-ups should involve all major muscle groups of the upper and lower body and should incorporate active stretching techniques.
Evidence has shown that attempting to stretch cold muscles does not effective.
Mild strengthening  of all major muscle groups should also occur during the warm-up.
If you have an injury special attention should be given to  spending ample time warming up this body part.
3#) Assuming that an injury will not become worse- Simply put if you have an injury it needs to be rehabilitated and will not go away.
We often see people who continue to battle injuries that initially happened years ago and are not resolved.
Proper diagnosis and rehabilitation by a physical therapist is needed before continuing with a group fitness class.
If injuries are resolved when they initially occur then chronic long term problems are unlikely to continue.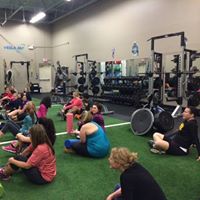 #4) Never assume that you can perform all the exercises- If there're exercises that you have not performed before during the group fitness class then proper instruction And supervision is required by the fitness professional.
#5) Alternatives to exercises should always be an option- It is imperative that the fitness professional explains alternatives to movements performed within the fitness class.
It is also imperative for the participant to speak up when alternatives to movements are needed.
<<If you have further questions about fitness or injury prevention please email us at physicaltherapynow@gmail.com<<
<<If you would like to schedule a 15 minute free phone call to discuss your fitness goals or how to prevent injury during exercise then click here<<
<<If you would like more information about how to begin attending a responsible boot camp to lose weight, improve strength, and gain flexibility then click here<<